Cuevas del Cipres
Experience a memorable holiday
Affordable yet luxury Cave
Cave home restored with all modern amenities
Enjoy nature & traditional culture
Heal your soul & experience the natural beauty of Andalucia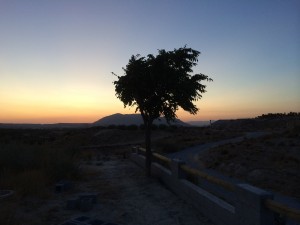 Welcome to Cuevas del Cipres

---
C
uevas del Cipres is a traditional Andalusian cave home.C
ave houses are perfect for the intense Summer heat of southern Spain as well as the during the winter. They keep a natural consistent 19ºc. We are near the town of Baza, the largest town of the Altiplano de Granada. Making it a perfect base to explore the beautiful region with it many huge lakes, the wonderful Sierras, the Bad lands of Benamurel. The amazing Alhambra in Granada is only an hours drive away. And of course you can enjoy free tapas in every bar!

Heal your soul & experience the natural beauty of an Andalusian Cave Home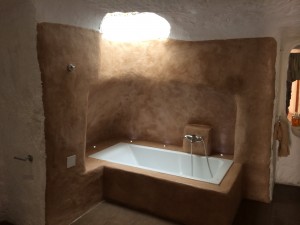 Cuevas Del Cipres is a Holiday with a difference. Visit the Alitplano de Granada and stay in a wonderfully restored cave house. The cave houses are perfect for the intense Summer heat of southern Spain as well as the during the winter. They keep a natural consistent 19ºc. Cuevas Del Cipres has 3 large bedrooms one of which is en-suite, A large bathroom, Fully fitted Kitchen, Lounge Diner and Cosy Tv Room. There is an extra room as either a bedroom or study. It has a Large enclosed Patio, Pergola and other outdoor amenities. It has 10,000m of land – plenty of space to swing a golf club or fly a kite.
We have our own private swimming pool with BBQ area and terrace.
At 200m there is the Hotel Complex of Aljatib with its restuarant, Hamman and Arabic tea rooms. The size of the cave makes it ideal for large families or a group of friends.

---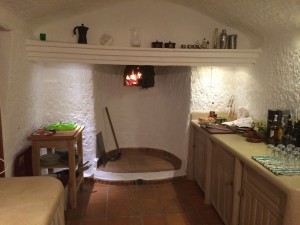 Fully Equipped Kitchen

With a fully functional Pizza/Bread Oven, 2 fridges & a freezer
Dish washer, Microwave, Oven & Hob, Coffee machines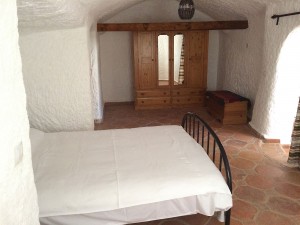 3 Large Bedrooms
There are 3 bedrooms, including one ensuite. Each bedroom is large enough to accomodate upto 2 extra beds. A Childs cot is available on request.
Be prepared to sleep well! The thick cave walls block out all sound!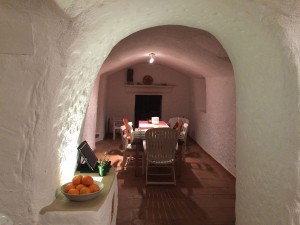 Cosy Lounge
A large Lounge with its own log burner with be the focal point of your stay.
A group of us (5) stayed at Matt's Cave House - we absolutely loved it! There's an open fire, warm showers and even a woodfire pizza oven.
We are just back in Somerset after an amazing - and incredibly hot!- week in Spain. We stayed in Cuevas del Cipres and it was certainly a holiday with a difference! The cave is huge, with well spaced out bedrooms offering some privacy in spite of there being only one internal door. There are 2 sitting rooms, two eating areas and 2 bathrooms.
We have just returned from 2 weeks in Matts Cave. We had the most amazing holiday. The area is so quiet and peaceful, with beautiful views and sunsets. The cave was so cool, a much needed reprieve from the heat outside! Everything about the cave was great , it had everything you could possibly need and more and Matt was so helpful. We took two teenage boys who were delighted with the WiFi and Apple TV and the pool which is really close to the cave.
2 - 6 Nights
Upto 6 Guests
Extra Guests €10 per Night
Week
upto 6 Guests
€35 extra per week per extra guest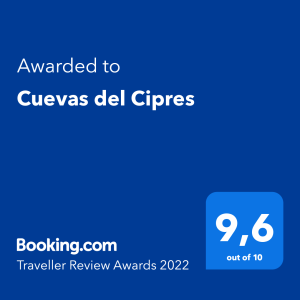 If you have any questions please dont hesistate to contact us. Please either use the contact form below or call on +34 620 455 169